to come shovel the SNOW off my steps.
And while he's at it, he might as well shovel the sidewalks clean, too.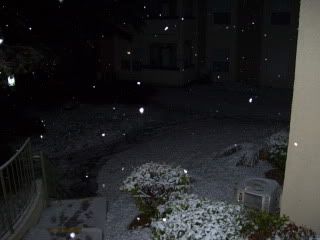 The world is topsy-turvy. It's not Las Vegas, it's Bizarro Vegas.
Global warming, my ass. Oh, wait! They're calling it global
climate change
now, aren't they? Yup, they gotta cover their collective ass.
Hell, I moved to Vegas to get away from the white stuff. I wonder if Silver will have school tomorrow...
---
UPDATE: Great, now they're saying this might be the worst snow storm to hit Las Vegas in
thirty years
. Thank God I have the day off...;)
UPDATE to the UPDATE: Snow and palm trees just don't go together.