from walking a little over 5 miles with my dogs. We had a lot of fun, though my precious pups were dragging a bit there towards the end. I took some pics, petted some horsies (squeee), and now am rejoicing that I don't have to go to the gym today. Oh, and I won't have to dremel my dogs nails this week, either. They did that on their own, walking and running on the hard surface of the road.
I also really enjoyed hearing the croaking of frogs whenever I passed a pond (tank?). Cicadas I'm used to hearing. Frogs? Definitely none of those in Las Vegas!
As we walked across the yard to the street, I noticed some daffodils (?) spearing up from around the base of a tree. Did my taciturn, redneck, macho roommate plant these, or were they here when he bought the place, eight years ago?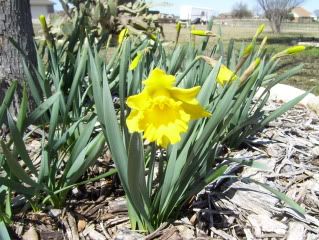 Here are some of the views on our walk. I'm sure they will be even more beautiful when spring has fully sprung!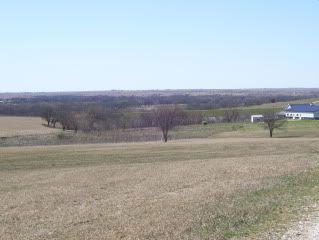 Love the water tower in the distance:
I'm sure very soon a bird couple will be using this nest:
The following REALLY amused me. A massive gate structure, suited to an equally massive mansion, plantation, or ranch house
a la
South Fork, yet up the driveway is a modest, unassuming three-bed-room (probably) brick house. The brick does match, though! Oh, and you can see Harley's butt in the second picture. The sun was so bright today, I couldn't see what I was photographing most of the time!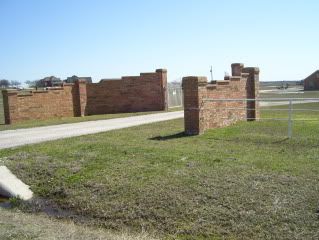 Speaking of my pups, they were so tired by the end of our trek, they stood still long enough for me to take pictures!
Inconceivable!
And when we finally got home, they lapped up a bit of water and collapsed. They are STILL sacked out, for that matter.
Tucker tuckered out. Harley is buried under sheets and blankets.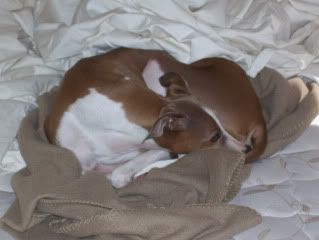 All in all a very good way to pass a couple hours. Now only if my 85 SPF sunblock had worked a bit better...*sigh*.