here's a picture just for
Holly
:
A little progress picture of
moi
...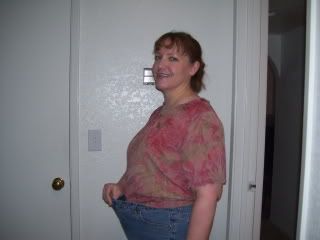 Hmmmmm. Silver says I look possessed. Hey, SHE took the picture, so blame her! Or maybe it's the braces?
Anyway, I've lost twenty pounds just since the surgery three weeks ago, and forty six pounds all together since the beginning of summer. That's not bad! Tomorrow, I get to eat real food for the first time since the surgery...I can't wait! Four ounces of solid food is way better than ten ounces of protein shake.
Have a Happy Thanksgiving, Everyone!