But it's not as bad as you think. Silver's nickname at school is "Speed Racer", because she always runs to every class, pulling her wheeled backpack behind her, so full-out is pretty much her only speed. Which means getting pictures of her accepting her certificate of membership in the National Honor Society was impossible...blur, blur, blur!
So I'm only inflicting a few pics on you, lucky things!
Here she is, after accepting the certificate:
And here she is, indulging in her favorite pastime, EATING! (Oh, she's gonna get me for posting this one!):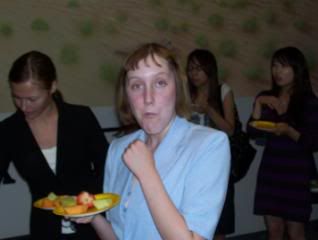 And finally, relief that it's all over!
Thanks for letting me indulge myself!