As anyone who works in the service industries knows, you can't make everyone happy all the time. I know it's impossible, yet I always try anyway. Some people you just can't please, and, let's face it, not everyone is going to like my massage. I've learned to be philosophical about it.
Here are two examples of comment cards that clients left at the front desk.
I covered the contact information, of course.
In case you can't read it, the lady wrote: "Stress relief massage from Christina was just mediocre. She is very pokey with her fingers. But I did feel very relaxed upon completion."
I like constructive criticism, but I don't quite know what to make of being "pokey with" my fingers! Hey, and the lady was very relaxed at the end! That's better than a fork in the eyeball, right? A stress relief massage at our spa is a 25 minute shoulder, neck, and back massage, by the way.
The following lady had quite a different experience, she had a 50 minute, full body Swedish massage: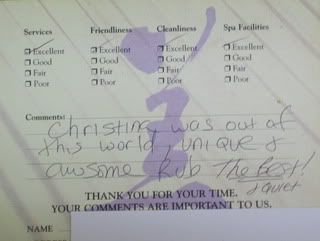 She said, if you can't make it out: "Christina was out of this world, unique and awesome Rub
The Best!
and quiet"
I guess the fact that I didn't babble during the massage made her happy. :)
I do recall that she told me twice that I had outstanding technique!
To me, the trick is to take something from both positive AND negative feedback, but especially not to let any negative comments get me down.
And to not take them personally, since everyone has a right to their opinion.